Building opportunities for all British Columbians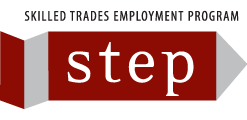 "It's been totally positive for us. STEP has been a huge benefit to our company."
The Skilled Trades Employment Program (STEP) launched in 2006. From the start, STEP has focused on finding motivated, trained, and ready-to-work candidates for construction employers with jobs to fill.
We're unique because we start with the job, then find candidates that are a great fit. In this way, the BCCA has made STEP an integral part of BC's construction sector, and advanced thousands of British Columbians along a rewarding career path in the skilled trades. Whether we're connecting BC employers to entry-level workers or new apprentices, we're here to build skills, careers, and opportunities.
We've grown. More than 10,000 individuals have been connected with new career opportunities through STEP.
---