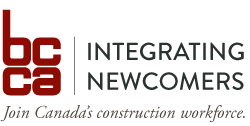 The construction industry is a significant driver of the Canadian economy. Opportunities exist for experienced trades people and new entrants. There are a broad spectrum of construction occupations which include labourers, skilled trades, technicians, technologists, design professionals, and many support occupations.
Many job openings are available across Canada and BCCA-IN is here to assist newcomers to access these opportunities.
Client Success Stories
Download our BCCA-IN Brochure for Employers.
Download our BCCA-IN Brochure for Workers.
Meet the BCCA-IN Crew
---
Get in touch with us
If you have questions or need more information, please email newcomers@bccassn.com.

If you're looking to apply to the BCCA-IN program, please click below to fill out the Application form.
BCCA Integrating Newcomers Twitter Tweets BCCA-IN Feed LinkedIn Group BCCA